Successful lean project management consists of lots of different components moving smoothly at the same time. Not only do you need a continuous live report of what's going on, it's equally essential to prioritize communication between teams and groups working on each item.

Throughout a project lifecycle, a Project Manager has to handle customer change requests, assign new priorities or re-schedule tasks to keep the project afloat. If all this important communication isn't visible inside the project, everyone on the project is completely dependent on the PM. If that project manager now goes on vacation, gets sick, needs to assign the project to another manager or multiple managers are managing one project, things can easily get lost, left behind, or left unmanaged.
In this post, we're going to give insights into how you can integrate communication into your Jira projects.
The problem with external communication
Project management tools, including Jira, offer options for users to comment and add files within the project. This is great for maintaining clear communication between project users, but for most companies – valuable communication often happens in email. Essential project data could be trapped inside your inbox including data from customers, updates from vendors, or insights from outside the project team. If these aren't clearly visible and bound to the private inbox of the PM, lots of confusion can arise along the way. A singular project manager will already have to waste precious time transferring this data over to Jira. It gets even more complicated when you add multiple PMs or try to do a project handover, where some essential info is hidden in the inbox.
Solutions for Integrating Email and Jira
The main problem is that external communications about a project are not visible to everyone involved in that project. So, why not integrate your external communication into your Jira project? Imagine a future where relevant emails are automatically loaded into your Jira project and you have everything in one place. Your Jira project can and should be your first entry point and link to everything else: external links, storages and communications. 
Jira's native linking capability will give you some ability to link to external resources and bring information storage together. For integrating external communication like email into your Jira project, you may want more than Jira's native email integration pathway. We recommend the Marketplace App called Email this Issue (JETI). 
With Jira's native email capabilities emails can be added as comments under the related Issues. And with JETI you can send emails to everyone outside your Jira from inside the issue view with the click of a button. You can also create your company branded email templates and add auto-reply functions. Configuration is easy.

With all external communications stored inside your Jira Project, thanks to JETI, fast finding of information becomes even easier. When you now open the comment detail view of Epic Sum Up, you can sort, filter and search through all internal and external communication inside your Jira project. 
Want to know more about the integration of external communication into Jira projects? 
Check out our free whitepaper here.  
Implement Jira Email Integration (with JETI) in 3 steps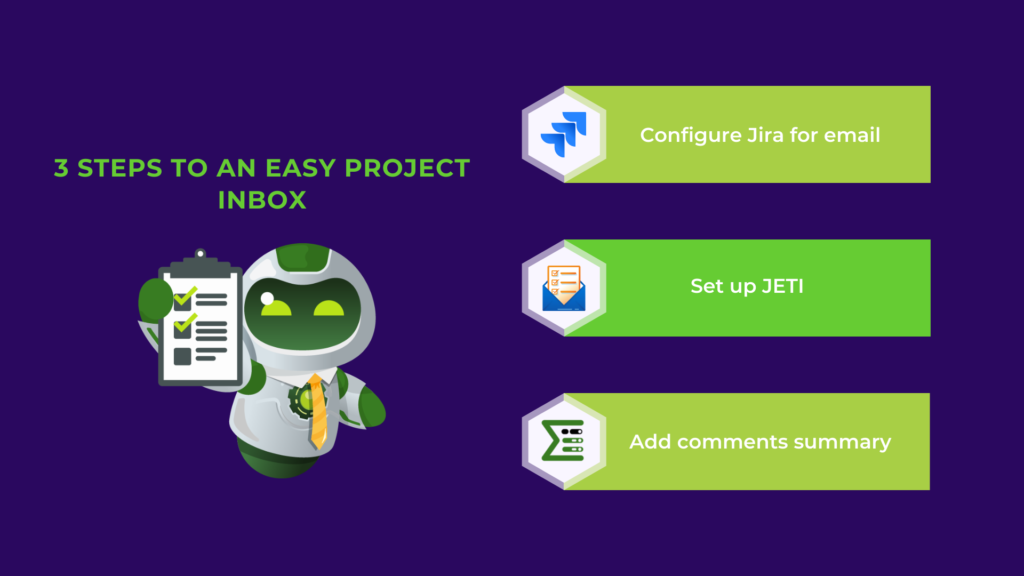 1.In order to be able to send and receive emails in your Jira, you need to configure this in Jira. You will need to integrate a specific email address that Jira reads. Then you can define if emails sent to that address should be added as issues or comments to Jira. You can find detailed guides here. 
2.JETI needs to be properly configured to store related emails as comments to the right issues. Email Templates can be added and auto-reply emails need to be set up. Everything you need to know about the configuration of JETI can be found in the App's documentation. 
3.To be able to search through comments easily the comment summary of Epic Sum Up needs to be added to the Summary Panel. A guide on how to configure the Summary Panel can be found here. 
If you need assistance with any of the steps above, you can contact us here or book a short meeting. We have a network of different Atlassian Solution Partners and are happy to help you find the right one to set this up. 
It's that easy! Now, you can integrate external communication into your Jira projects with the help of Jira and JETI. 
If you liked this type of content you can subscribe to our newsletter here. We send out monthly news about Epic Sum Up releases, new lean project management content and more.