As a project manager, you must be able to quickly see, understand, and review a project's roadmap and timeline, at a high level. A lean, legible project roadmap is a key visual tool for timelining the project and keeping things on track. A complete and thoughtful project roadmap is a vital component of seeing any project through to success. 
How can you build a project roadmap that's lean, easy to access and navigate, and which helps every stakeholder stay informed?
In this quick guide, you'll learn all about the components of a strong project roadmap, the steps to build yours, and we'll also be providing a recommendation for a tool that will help simplify the entire process.
Why Do Project Roadmaps Matter?
It feels easy to say that at-a-glance visualization of a project's plan and timeline is overkill. The project's already in a project management software or documented in a brief. It already has a manager and everyone else involved is a capable adult, right?
Unfortunately, even though we're all capable to go dig for our own information, data gets lost VERY easily in the business world. Teams communicate things to each other and soon, information is no longer universal. As soon as this happens, decisions can no longer be unanimous or based on the same data. Everyone's going to have a different picture of what's happening, and what should happen next. 
With a solid project roadmap in place, you'll benefit from:
Expectations Management.
Know that your stakeholders at every level are similarly informed on, and agreeable to, the objectives laid out in this project. This way, if anyone has questions or concerns, they're handled upfront – not in three months when things need to be escalated. 
Priorities Management.
As time turns, decisions need to be made. Employees may need to shift focus, team members may leave or take absence that changes timelines, or entire assets or expectations may change. It's infinitely easier to make these decisions as a team and on time, when the project roadmap is updated. This way, you can anchor all of your decision-making to the ultimate desired outcomes of the project. 

Quick-hit Communications.
Project managers are natural communicators who spend most of the day keeping everyone in the loop. While this work is important to do, things get lost in Slack messages or emails very quickly. It's good to have one place where anyone on the project can stop in and check on things or get answers.
What to Include in a Project Roadmap
A roadmap is really just a zoomed out, high-level overview of the project as a whole. Consider this the itinerary which a Project Manager will reference and use to inform all other teams, vendors, or stakeholders. The project roadmap keeps everyone on the same page, informed, and aligned.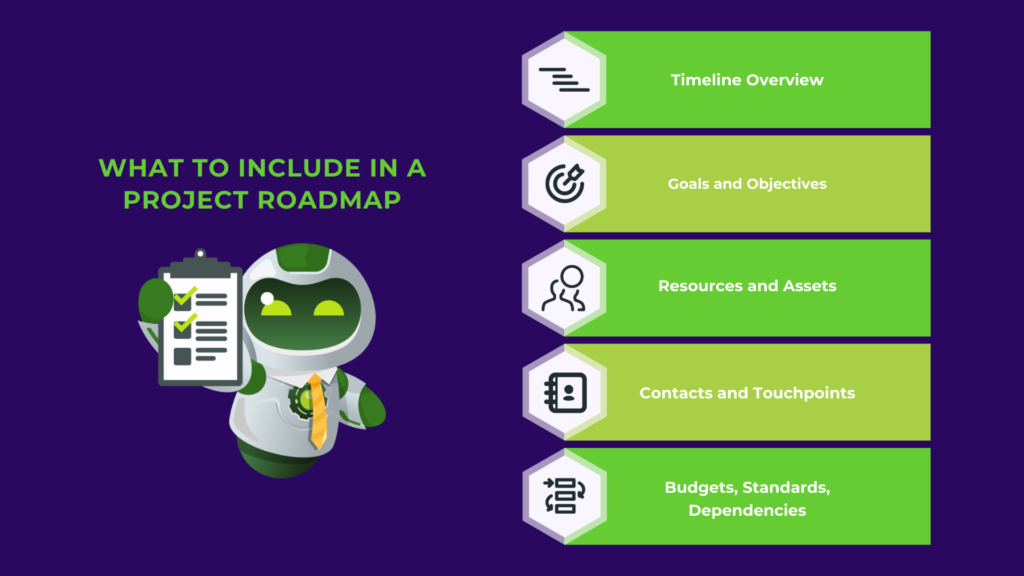 Timeline Overview


The project plan and task chart will help you get more specific, but a general project roadmap should include start and end dates, as well as any other seasonal influences, changes of hand, or big, anticipated events within the scope. If you have pre-set or concrete milestones attached to this project, list those here.

 
Goals and Objectives


The project overview and objectives should summarise what you're hoping to achieve as a group, why, for whom, and how that's to be evaluated. Clearly communicate the desired project outcomes for all workers to see and blend with their personal tasks. At a glance, all involved parties should be able to understand why this project is being done, how it can be prioritized against other projects, and whether it's on track against desired outcomes.

 
Resources and Assets


Any good project management software will have separate areas for you to store documents, link to assets, or otherwise collect what you'll need. However, a project roadmap is a fantastic place to index the key resources, so that everyone can quickly navigate to them. This is not a place to include an exhaustive upload of every item needed for the project, but it is a great place to include the table of contents for those uploads.

 
Contacts and Touchpoints


In your project roadmap, list the individuals who are leading the areas of the project, overseers or approvers, and anyone else who needs to review the project or provide insight. Make sure everyone on the project knows who to go for to get what types of information, and how to reach them.

 

Budgets, Standards, Dependencies


If there are limitations baked into your project, it's good to highlight them up front at the roadmap level. If obstacles, known dependencies or bottlenecks,or stopping points are going to hinder productivity on the project, stop work in its tracks, or require approvals or other changes to move forward, it's good to note those things in advance so everyone is informed and ready.
How to Create Your Project Roadmap
1. Choose a project management tool or environment, and the necessary plugins At APTIS, we're going to recommend Jira for your company's general project management needs. No matter which project management tool you choose, make sure to get as much visualisation capability out of the option you have as possible, Jira works well because they allow applications to integrate and play with their system easily, to customize your project management environment to your needs. For example, the Epic SumUp progress bars are an excellent visualisation tool for project costs and budget, which integrates with Jira easily.
2.Collect the necessary project information
Likely you've already got a project brief to pull much of the needed roadmap basics from, and you'll add links to assets or documentation, contact information, and anything else your team will need.

3.Document information in a one-glance format
The project roadmap shouldn't require tons of scrolling or diving into containers – it's an at a glance dashboard of what's about to happen. Be sure to use technologies that help you visualise easily and keep infosets as simple as possible.

4.Share the roadmap, and refer to it often
The worst thing that could happen to a project roadmap is to be ignored. As a project manager, it's your role to keep everyone aware of the plan and working the plan to the best of their ability.
Project Roadmaps better with Epic Sum Up
Identify when a road map is at risk.

Summary panels and progress bars will identify when projects are going off course (e.g. exceeding the man-hours budget).

Plan roadmaps better

Look at previous projects to estimate, based on Epic SumUp data.

Keep track of your runway

You'll never succeed with a project road map if you run out of money.

Ensure that roadmap provides access to the same information to everyone involved.
Epic SumUp progress bars provide live display of data, visible to everybody.
Generate your Project Roadmap with Swanly
Swanly, by our friends at Jexo, is the perfect tool for Jira users looking to build a project roadmap based on known milestones, release dates, or quick fixes. Swanly helps you to visualise, block out, and build up each section of your project roadmap, attach each piece to your overall timeline, and help you stay on track.