Jira is already one of the most powerful ticketing and issue management software options available on the market. The Atlassian ecosystem is popular for many Project Managers and teams because Jira and the other Atlassian applications are multi-functional and feature-robust. Jira has transformed the way many organisations take in support tickets, assign issues, and manage projects. 
To make things even better, the developers who are working to create Jira add-ons provide constantly evolving value for Jira users. These apps exist in every category imaginable from the universally useful to very niche and specific. One thing remains true, though: if you want to get the most out of Jira for your organisation, it's wise to take note of power-ups in many categories, especially visualisation.
5 Powerful Jira Apps to Enhance Your Project Management Experience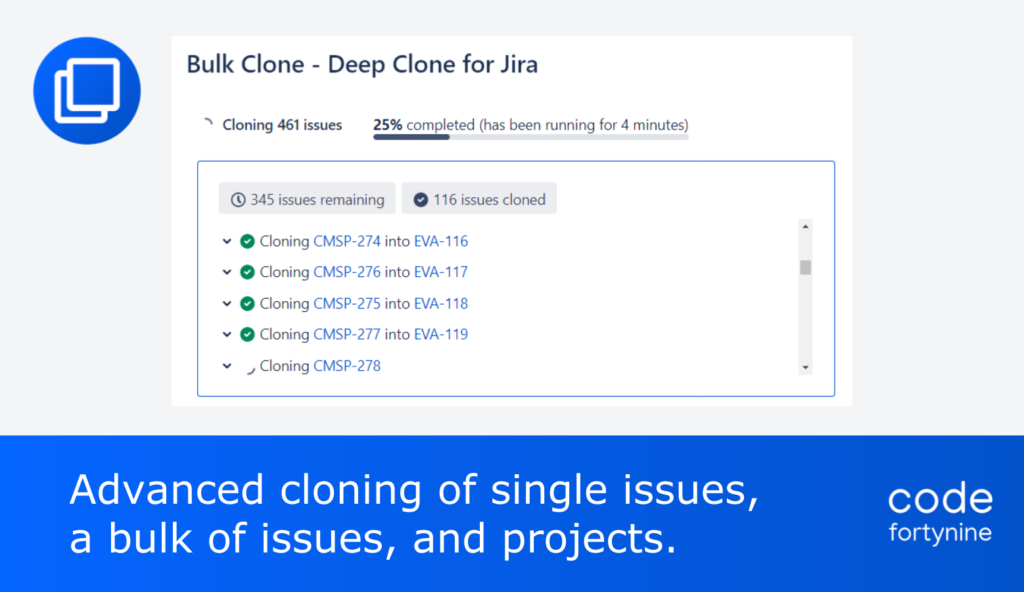 Deep Clone is a fantastic way to save time copy-pasting issue details or saving templates. With Deep Clone, you can clone all data from single issues, a bulk of issues, or epics. While Deep Clone would be a no-brainer for organisations with frequent recurrences in their tasks and issues, it can be useful for anyone. 
Sometimes issues become super deep with comments and attachments, and deep cloning pulls all of that into the new cloned issue. This means you won't miss any subtasks, project files, or other important notes that were added along the way. When the handling of an issue is something you want to template or use over and over again, Deep Clone will have your back. When an incoming issue very closely matches one you have just closed, Deep Clone will help you repeat the process without having to manually copy.
Some Jira apps are very specific in handling one metric really well and that's true for Time in Status. Time in Status allows Project Managers to visualise projects that are struggling, slowing down, or blocked and have been that way for a while. For Project Managers who need to see bottlenecks above everything, Time in Status is a great add-on because you'll never have to wonder how long an issue has had to wait. This app is also a great indicator of employees who are too backed up or external departments that often hold up the process, as this visual add-on will help you draw patterns between often-held-up projects or frequent blockers.
BigTemplate helps any Project Manager quickly transfer data between Jira and Excel, PDF, CSV, MS Project, or whatever apps you use. BigTemplate can also import management data from files back into Jira, BigPicture, BigPicture Enterprise, BigGantt from sources like Excel and CSV.
This option is smart for Project Managers who are working across multiple documentation platforms or who have to migrate content from one platform to another for different clients, departments, or partners. BigTemplate is also nice for reporting or pulling Jira data into a space others can access and use. Quick and effortless importing and exporting means that data you have stored across the various parts of your organisation can finally come together meaningfully.
Epic Sum Up is a Jira add-on that brings compelling progress bars and quick summaries for epics, containers, and issues in Jira. It's a fantastically lightweight option for reporting, but also a great dashboarding option for busy Project Managers that need to see everything at once. Managers can set custom metrics and fields so the sum up is completely unique to what you need to see. With Epic Sum Up, buried data and cluttered quantities become visual, and therefore easy to navigate.
OKR stands for Objectives and Key Results. For organisations who use OKRs or that want to implement OKR tracking for projects and teams, the OKR power-up for Jira can help. With OKR for Jira, you can quickly visualise objectives and key results for any project or issue without having to manually add them in every description. With this power-up, you can connect OKRs and outcomes to specific projects in a trackable fashion. For Project Managers who are also People Managers or who report to People Managers, this is a powerful way to tie the daily work to long term outcomes, professional growth, and impact on the organisation.
Browse the Marketplace for more
Jira alone is a powerful tool, but with power-up apps like these and thousands more in the Marketplace, Jira is also customisable to your needs. Each Project Manager has their own way of working, plus a list of specific needs to meet for their organisation. Out of the box Project Management tools, including Jira, don't always support custom needs. Power-ups help you do more. Greater visuals, better reporting, cleaner access to data — these all help the Project Manager to do their job more efficiently and effectively.
Thanks for reading! Do leave comments, and connect with me on Linkedin if you would like to have a chat about anything related to project management in Jira.
For more tips on project management subscribe to my LinkedIn Newsletter.
I'm building a newsletter to provide Project Managers and Jira leaders with new strategies and tactics to make Atlassian project management more effective and efficient. Join me as I share lessons from my experience working as a developer, project manager and now product manager of Jira tools.