A notification goes off and the message comes through: another ticket or request sent from somewhere within the company. As the Project Manager (PM), you now have a series of tasks to handle before this issue is passed on to the engineer, creator or support personnel best suited for the job. Initially, it's crucial to establish whether this ticket contains one issue or many. One-off single tasks or repeat needs might be easy — a quick to-do for one person, once. However, you know all too well that most incoming tickets aren't that simple. There are interdependencies between tasks, often with resources missing, and staff are being pulled in more directions than one. Always. 
As a Project Manager, you must understand how ALL the tasks interplay, how much is going on at one time, and whether it's at all sustainable with the resources at hand. The plight of the PM is to understand the complexities of your organisation, the demands of every task and project, and to balance the inputs and outputs for every worker. To do this, especially with larger and more demanding projects, you'll need a process for segmenting projects into smaller tasks, tools that help you visualise and puppeteer at a glance, and ultimately, technologies that can automate the obvious. 
Segment Your Project with Agile Epics
Agile Project Management encompasses an entire larger framework for managing projects and moving tasks across time. Whether you are an Agile certified PM or someone who is just adopting some Agile practices, Agile Epics may be of interest to you. An Agile Epic is essentially a solution to multi-piece issues or tickets that helps you segment your big projects into smaller, more tacklable parts. 
Effective segmentation of projects into stories or task bundles will help you regain control over all projects, and provide a better gateway to automating some recurring tasks. Epic stories also ensure that project management decisions are tied into business outcomes for your users. However, Epics may become equally bulky if your organisation and teams work across and move multiple projects at once. 
When segmentation is no longer sufficient, Project Managers often look for better ways to visualise the multiple segments of work at hand. If the tools you're using are not proficient enough to give you the visibility of detail required, there are ways to power up your instance of Jira for more robust capabilities. 
Take Stock of Every Project with Easy Visualisation
It would be too easy if each project happened in its own time with no overlap, overflow, or overestimation. Unfortunately, issues never happen in a vacuum and assignees to each new issue are already busy with any number of other tasks. Prioritisation skills are part and parcel of what makes a Project Manager great at their job, however, it's virtually impossible for anyone to prioritise at scale and meaningfully understand every project and its outcomes without some kind of help. 
Good visualisation tools are a Project Manager's secret weapon
Smart software and power-up applications can help Project Managers build the most effective project management dashboard possible. Visuals like these will help you anticipate overlaps in projects, see at-a-glance where things are bottle-necking, and unpack subtasks without going 40 clicks deep. There are many tools which make it easy to have a birds-eye view on tasks, without needing to delve into the specifics.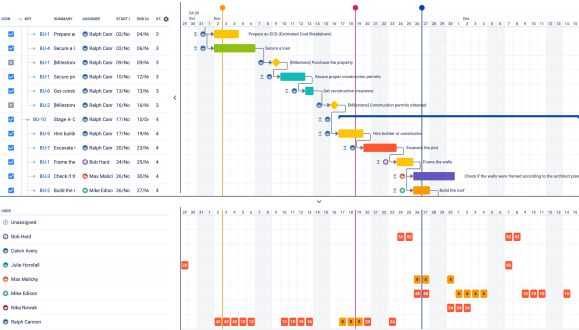 Match Tasks to Time, Resource, Priority
Powerful project segmentation and visualisation will give you back your time as a Project Manager, ensuring more precise and timely decision making and displaying productivity patterns that inform future work. You can estimate and forward plan time and budget more easily with updated visual intelligence. You will be better informed and more in control using highly organised agile epics visualised in a clean, flexible way. When you're working with the most intel and control, you can confidently assign and monitor issues and manage the team accordingly. 
Fortunately, with Jira, you can find power-ups that help you do more, faster. 
It's easier with Epic Sum Up
If you're already a Jira user, check out the marketplace which is packed with a diverse array of impressive developer-driven apps that help Project Managers and users achieve more simultaneously. 
One such power-up is Epic Sum Up. Epic Sum Up is a Jira plugin that will auto-visualise your projects, your way. With no technical configuration required, you can quickly set up ESU to show progress bars and visuals for the metrics you need to see first and foremost. The dashboard can be tailored to individual projects and users, whereby each epic, container and subtask will be displayed in a bespoke way in order to increase productivity and proficiency for each team member. Metrics are displayed as progress bars, summary panels and custom fields for story points, time and budget, task status, revenue, attachments and comments. 
Efficiency like this doesn't just benefit the daily experience of the Project Manager or the team working on the task issues at hand, but it's actually beneficial for the business as a whole. With greater visibility and control across all projects, there will be greater productivity, flow and functionality for everyone. If you're interested in optimizing your existing workflows with visualizations and organizational support.
Thanks for reading! Connect with me on Linkedin if you would like to have a chat about anything related to project management in Jira.
For more tips on project management subscribe to my Substack Newsletter.
I'm building a newsletter to provide Project Managers and Jira leaders with new strategies and tactics to make Atlassian project management more effective and efficient. Join me as I share lessons from my experience working as a developer, project manager and now product manager of Jira tools.