Project Managers are multi-taskers by design, but with multiple projects and outcomes happening at once, things can get out of control. Project Management software like Jira and frameworks like Agile and Scrum can help organise things. However, any software can get so deep being overloaded with so many projects, it becomes difficult to see everything at once. In order to make quick and informed management decisions, Project Managers require a bird's eye view of concurrent work, recent completions, and outcomes against budget and time. It can be difficult to know for sure how to prioritise a new ticket against existing work if you can't see other work which is happening at a high level. When visibility gets muddled and the revolving door of issues never stops, overwhelm is on the horizon. If this happens to you, here's what to do:
How to Identify Project Overwhelm
Any Project Manager can encounter project overwhelm at any given time. This overwhelm isn't a sign of a Project Manager's incompetency — not at all — this project overwhelm is inevitable. It is a sign of business growth and an increase in the demand for productivity. The first step in remediating the problem is identifying there is too much going on. 
Here are 5 signs you need for a project recalibration:


More than a few tasks are falling behind estimation

Deadlines are missed or deliveries are coming in last-minute 

Sub-issues aren't being visualised and things are getting missed in completion

Tasks are getting stuck behind prerequisite tasks or approvals 

Team members are expressing burnout, or — in the reverse — stagnation 

A Project Manager experiencing more than one or two of the signs above can be sure: it's time to recalibrate.
Recalibrate Your Projects in Four Steps
When project overwhelm stands to threaten the control you have over projects and dates, there is a quick and effective four-step process to take back the wheel:
STEP ONE: PAUSE TO REASSESS
If things are already overwhelmed or backed up, take a pause before assigning new issues or projects that come in. Take time away from responding to messages and moving items forward until you have a better view of what's happening and why.
STEP TWO: CONDUCT A TIERED CHECK-IN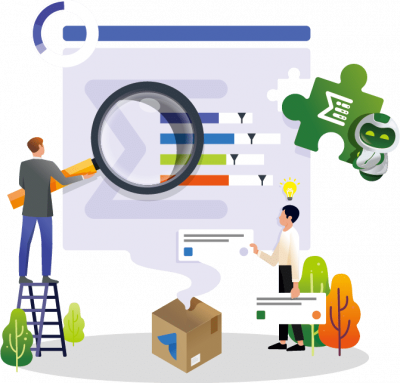 Tier One

: Check in on Overdue / Late Issues / Projects




The first tier of projects or issues to check in on are those that are visibly late or overdue. Almost any Project Management tool will empower this view. Most overdue projects will need an extension for their completion/approval which a Project manager can facilitate, with parameters to help get it done.



Tier Two:

Address Bottlenecks and Blocked Projects.

Some tier one issues are really tier two in disguise: they're overdue because they are blocked. Other issues aren't yet late, but an obstacle or hurdle threatens their completion. In any case, Project Managers will want to know about any absence, missing resource, or system failure that causes a block right away, so these blocks can be removed or accounted for in time estimates. 
Tier Three

: Assign or hold new issues based on available team bandwidth




Any new tickets or projects that come in and need to be assigned can now be more realistically assigned, with the Project Manager already aware of all late or stopped projects and team accountabilities.



Overflow:

Address any stable active projects, archived work, payouts, etc.




Once the top three tiers are addressed, regular Project Management work can resume. This might include added commentary or responses on active issues, archiving completions, paying contractors or approving hours for payment, and much more. With all overdue work, obstacles, and upcoming projects handled, projects are no longer in a state of overwhelm and neither are their managers.
STEP THREE: BUILD A BETTER VISUAL DASHBOARD
If overwhelm is a frequent state for you and your team, it's a sign that you need a more visually effective dashboard to view projects at a glance. Whether this means upgrading your tool to something more robust like Jira, or adding power-ups and plugins, more visibility leads to better decision-making every time.
STEP FOUR: UPDATE ESTIMATIONS AND OBJECTIVES BASED ON DATA
Project overwhelm isn't just rectified by diagnosis and organisation — estimations have to change to meet a constantly evolving reality. The final step in absolving your team from project overwhelm is to reassign or redistribute projects and dates in a way that is realistic, given new data. While constantly pushing due dates back further and further is one solution to late work or stuck progress, it isn't a scalable one. Instead, seek data that makes a difference and use it to change what you can.
Prevent Overwhelm by Powering Up Your Project Platform
What tools are you using for Project Management and visualisation? 
Nothing. Reports estimate that 44% of Project Managers globally do not use any form of Project Management software. If your organisation is still relying on spreadsheets and Google Docs to manage projects, your first step is to install a Project Management software or tool that gives you general visibility into projects, doers, and dates. 
Basic Project Management tools.

Many of the Project Management tools on the market are basic in that they offer a checklist for tasks, and the ability to assign dates and responsible parties to those tasks. While this is a great start for many orgs, these tools are not helpful for cutting down on overwhelm because they don't offer sophisticated project data — just a pass fail rate and a calendar. 
Jira.

If you're using Jira for Project Management, it's safe to say your organisation is more technical than average or you've got a lot of projects on deck. While Jira is one of the premier and most robust PM tools on the market, its depth causes visibility problems. 
Jira plus power ups. The best way to get the most out of Jira, and to have a Project Management dashboard that does more, you may consider visiting the Atlassian Marketplace. There are hundreds of power up apps that you can use with Jira to better visualise, audit, control, and report on your projects, in one click. 
Projects can get out of hand at any time and for a variety of reasons. An influx of new assignments or issues, changes in plan and protocol, worker absences, and approval slowdowns are just a few. Project Managers can feel overwhelmed less by deploying an overhaul on projects and then investing in tools that better prevent future chaos. Even the best Project Managers in the most organised companies will benefit from more implicative data, greater visibility, and a more powerful dashboard.
Thanks for reading! Do leave comments, and connect with me on Linkedin if you would like to have a chat about anything related to project management in Jira.
For more tips on project management subscribe to my Substack Newsletter.
I'm building a newsletter to provide Project Managers and Jira leaders with new strategies and tactics to make Atlassian project management more effective and efficient. Join me as I share lessons from my experience working as a developer, project manager and now product manager of Jira tools.
Subscribe for more tips, directly to your inbox. It's free to sign up.